Metal warehouse in Krasnodar
---
Dear customers, the warehouse in Krasnodar moved to Art. Novotitarovskaya, availability of metal and prices can be viewed by selecting a branch Novotitarovskaya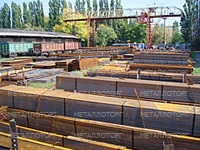 The branch of AO "Metallotorg" in Krasnodar is located on the street. Novorossiysk, between st. Simferopolskaya and st. Lisa Chaikina. The office is located in the business center "Kuban" at: st. Novorossiyskaya, 236/1, of. 408.
At the Krasnodar warehouse is constantly maintained a wide range of metal:

1) rebars:
- smooth rebars of A1 steel grade: 8-22 mm;
- corrugated rebar steel grade A500S: 8 - 28 mm, grade 35GS: 6 - 10 mm
) I-beam according to STO ASChM 20-93, according to GOST 8239, GOST 19425: 10, 12, 12B1, 14, 16, 16B1, 18, 20B1, 20K1-K2, 20Sh1, 24M, 25B1-B2, 25K1-K2, 25Sh1, 30B1-B2, 30K1-K2, 30SH1-Sh2, 35B1-B2, 35K1-K2, 35Sh1-Sh2, 36M, 40B1-B2, 40K2-K5, 40Sh1-Sh2, 45B1-B2, 45M, 50B1-B2, 50Sh1-Sh3, 55B1-B2, 60B1, 60Sh1-Sh2, 70Sh1-Sh2.
3) round bars in st3, st09G2S, st20, st35, st40X, st45, diameters: from 12mm to 340mm
4) steel sheets:
- galvanized steel sheets: 0.55; 0.7; 0.8; 1.0; 1.2; 1.5; 2.0; 2.5; 3.0
- sheets of cold-rolled steel grade 08ps, thickness: 0.5-2.0 mm
- sheets with a lentil corrugation, thickness: 3mm, 4mm, 5mm, 6mm
- hot-rolled sheets: according to st3, st09G2S: 1.5 to 50 mm
- Expanded steel sheets: 406, 506, 508
5) steel pipes :
- water and gas pipes: 1.5 * 2.5 - 50 * 3.5
- electric welded pipes: 57 * 2.8 - 219 * 6
- profile pipes - from 15 * 15 * 1.5 to 120 * 120 * 6
6) metal angle bar : from 25 * 25 * 3 to 125 * 125 * 10
7) steel channel according to GOST and TU, with parallel edges of the flanges and with a slope of the inner edge of the flanges, sizes: from 5 to 40y.
8) metal strip : : from 20 * 4 to 40 * 5
9) 6.5 mm wire rod in rods
10) steel square bar : 12, 14, 16, 20
All metal rolled stock products of AO Metallotorg are certified. The metal at the Krasnodar warehouse is mostly Russian, and also comes Ukrainian metal-roll products (OAO Enakievsky Metallurgical Plant, OAO Zaporozhye Metallurgical Plant Zaporizhstal, PAO ArcelorMittal Kryviy Rih). Russian manufacturers, whose metal is in stock in Krasnodar, are such well-known manufacturing plants as: ZapSib OAO, Novolipetsk Metallurgical Plant OAO, Nizhneserginsky Hardware Metallurgical Plant OAO, Severstal OAO, MMK ZAO, Abinsk Electrometallurgical Plant OOO, Omutninsk Metallurgical Plant ZAO, Azovstal OAO, OAO "Alchevsk Metallurgical Plant", OAO "Ural Steel", OOO "Togliatti Profile and Pipe Plant", OAO "Taganrog Metallurgical Plant", etc.
Services provided at the steel and metal warehouse in Krasnodar:

- payment in cash and cashless payments;
- oxyfuel cutting, and if you need a more accurate cut, then at Novotitarovskaya station can be cut into metal by cutting machine; round bars by belt saw; sheets by guillotine;
- delivery of rolled-stock in Krasnodar and Krasnodar Territory, neighboring areas and the Black Sea coast;
- movement of metal from other warehouses;
- rolled stock order picking and occasional arrival to the warehouse, if the date of arrival of the client is known;
- straightening of rebar from coils into rods;
- packing sheets with tape.

The client can see the price per ton on our website or learn from managers. You can also issue an account with managers, arrange delivery of metal products from a warehouse in Krasnodar or any other company's warehouse, order delivery directly from the manufacturer, request a certificate for the metal produced, or check the availability of rolled-stock in warehouses, price per meter or for a bar.