Ваш заказ
В корзине 0 товара
Metal angle bar - prices updated 28.11.2018 to 8:59
Metal angle bar is available in our various branches, you can choose the branch you need, the type and size of products and order online:
Presents the actual prices for metal. Metal angle bar is available in our various branches, you can choose the branch you need, the type and size of products and order online. Attention Prices are subject to prepayment! There is a surcharge for a batch of less than 1 ton, more details from the manager.
Product Name
Size
Length
Other
Weight
1 PC/kg.
On stock
(ton)
Price
1 PC
Price
1 - 5 tons
Price от
5 - 15 tons
Price
> 15 tons
Branch
Товаров нет
Metal angle bar - техническая информация:
Metal angle bar
View Price - Metal angle bar
Metal angle bar — L-section long products from carbon and low-alloy steel. The steel angle bar is made from carbon steel of ordinary quality of the following grades: St0, ST3kp, St 3sp / ps, St4 (ps / sp / kp), St5ps, St6 (sp / ps) according to GOST 380-88; high strength low alloyed steel: 09G2C, 16GS, 15HSND, 10HSND, etc. according to GOST 19281-89. Hot-rolled steel angle refers to long products and is manufactured according to the conditions of GOST 535-88

Steel angle bar Production:
По способу производства стальные уголки делят на :
According to the production method, steel angle bars have following types: - hot - rolled steel angles - are made by rolling from hot sheet billet on rolling mills ( steel angle bar GOST 8509 93 and 8510), which allows observance of the angle, convergence of the sides without radius on the outside. On the inside, the radius (R) is present and acts as a kind of stiffener, increasing the strength of the product. (Pic 1)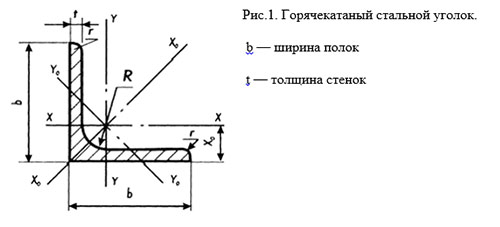 - cold-formed steel angle bars are produced by bending a hot-rolled or cold-rolled sheet on a roll forming line (GOST 19771 and 19772). From the outside the corner is not brought to grade. Not suitable for load-bearing structures. (Fig.2).
According to the type of section, the angle bars are made :
- steel equal-angle bars - having the same size of opposite flanges:
а) уголки стальные горячекатаные равнополочные по ГОСТ 8509-93
б) уголки стальные холодногнутые равнополочные по ГОСТ 19771-93.
- non-equal steel angle bars - have different width of flanges
а) hot-rolled steel angles equal - flange in accordance with GOST 8509-93
b) cold-folded steel equal-angle bars according to GOST 19771-93.
a) hot-rolled steel angles of unequal flange according to GOST 8510-86 b) cold-formed, unequal angle bars according to GOST 19772-93).

A metal angle bar without additional protection is subject to the influence of corrosion processes; therefore, metal structures are almost always painted or coated with a protective varnish. In the food and medical industries, this is unacceptable, therefore, in these cases, a stainless steel angle bar or a galvanized steel angle bar is used . The aircraft industry uses a metal corner of aluminum and its alloys.
Example of steel angle designation:

where 50 is the number of steel angle is the width of the flange, expressed in mm, 5 is the thickness of the metal in mm. 11.7 m - the length of the angle bar. Metal angle bar 50x50 x5 is equal flanged.
According the accuracy of the rolling area steel angle has two markings:
- A - high precision rolled
- B - medium precision rolling
Angle bars are made of length from 4 m to 12 m long:
-measured length
-multiple measured length
-unmeasured length
-limited length within unmeasured length
angle bars are used in construction, as rigid reinforcement for reinforcement of concrete in monolithic structures of high-rise buildings, in ceilings and coverings, in decoration, in the household plot, in metal structures intended for bypassing, for bonding and reinforcement. angle bars made of steel of ordinary quality are usually used for outbuildings, temporary buildings - where high reliability and durability are not required. angle bars of low-alloy steel can withstand adverse weather conditions (temperature fluctuations, high humidity), thereby more reliable. In addition to the construction of the angle bars of low-alloy steels go to the production of furniture, used in the machine-tool industry, automotive, mechanical engineering. Corrosion-proof galvanized angle bars are used for roofing in construction and medicine, due to their resistance to corrosion.
Manufacturers of steel angle bar in Russia: OAO Nizhny Tagil Iron and Steel Works (NTMK), OAO Nizhneserginsky Hardware Metallurgical Works (NSMMZ), OAO Severstal, OAO West-Siberian Metallurgical Works (ZSMK), OOO Trading Company EvrazHolding, OAO Chusovsky Metallurgical Plant ", OAO" Alchevsk Metallurgical Plant ".
Buy a metal angle bar
With us you can buy angle bar of steel of all types produced from the warehouses of branches, 3x warehouses of the Moscow region or directly from the factory. We provide services for cutting, delivering and picking of the angle bars. Availability, range and metal angle bar price for tons you can see on the website. More information on the metal angle bar price per meter or steel angle bar price for the piece, specify the metal angle bar weight and make a calculation of the quantity, draw up an invoice and make a request, clarify payment options and request a certificate for a steel angle bar - please contact the manager by contacting him
phone (8452) 57-00-18, e-mail: korneev@metallotorg.ru
Metal angle bar - look prices>>