Volgograd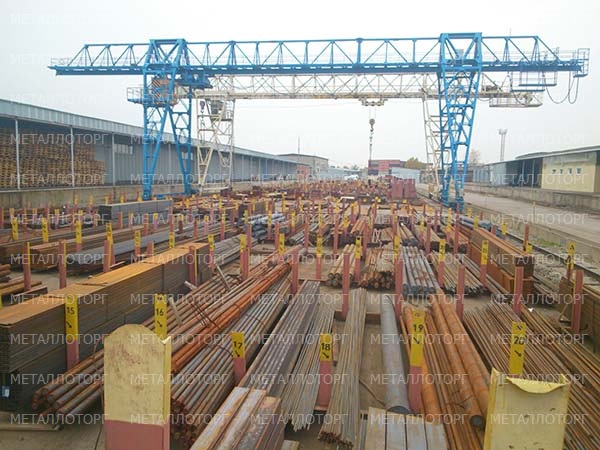 The Volgograd branch of AO Metallotorg began its work on November 14, 2005, located in the Dzerzhinsky district of the city of Volgograd, on the street Shopena 4V. Registered legal address is different from the actual. The warehouse is located relatively close to the settlements of Mikoyan and Gumrak. Usually the location is explained as follows: on Aviators highway, you need to go in the direction of the airport and, before reaching the Kamaz center, turn left. Metal warehouse in Volgograd is located on the same territory with the transport company «Delovye linii» LLC («Business lines»). The warehouse is located next to the office, which allows you to instantly execute documents, as well as resolve issues arising between the warehouse and managers. The warehouse is an open area with two gantry cranes.
The range of ferrous rolled-stock in Volgograd covers the needs of construction, manufacturing, metal processing companies. The assortment of reinforcing bar is constantly maintained:
- smooth rebars of A1 steel grade according to GOST 5781, with a diameter of 10 mm, 12 mm;
- corrugated rebar of A500C steel grade according to GOST 5781 and GOST R 52544-2006, diameter: 8mm - 25mm.
At the steel and metal warehouse in Volgograd has all the high-quality steel long products:
- I-beam in accordance with GOST 8239-89: 10, 12, 16, 18, 20, 30;
- channel according to GOST 8240, TUU, with parallel edges of the flanges and the slope of the inner edge of the flanges: size from 65mm to 300mm;
- steel angle bar on st3 and 09G2S: 25 * 4 - 200 * 200 * 14;
- - metal strip GOST 103-76, 103-2006: 20 * 4 - 50 * 5 (6 meters),
- wire BP-1 4 and 5mm, annealed wire 1.2mm in coils,
- metal square bar according to GOST 2591: 10, 12, 14, 16, 20, 40 mm,
- hexagonal bar on st35 and st40H: from 12 to 75 mm.
A wide range of sheet products are presented:
- galvanized sheet : thickness 0.55 - 2.0 mm,
- cold-rolled sheet , according to St08kp and 08ps, GOST 19904, GOST 16523: 0,7 - 2,0 mm thick, cut in size 1250 * 2500,
- hot-rolled sheet : according to st3, st09G2S, st 10HSND: from 1.5mm to 50mm thick, cut in sizes 1250 * 2500, 1500 * 6000, 2000 * 6000, according to GOST 19903, GOST 16523, GOST 19281,,
- expanded steel sheet: 406, 408, 5-6, 508, 510.608,
- a sheet corrugated - with a lentil corrugation type - in accordance with GOST 8568, 3 mm - 8 mm thick.

round steel bars in Volgograd are offered of the following grades: St20, St20H, St3, St35, St40X and St45, manufactured according to GOST 2590 and TUU, with a diameter from 12mm to 350mm.

The range of pipe metal at the Volgograd's branch warehouse::
- square and rectangular shaped pipes GOST 8639 and GOST 30245: ranging in size from 15 * 15 to 250 * 250,
- round water pipeline GOST 3262: from 15 * 2.8 to 50 * 3.0,,
- - round electric welded pipes GOST 10704: from 76 * 3.0 to 219 * 5.0,
- - round pipes seamless GOST 8732: 89 * 4 and 89 * 8, other diameters on request.

Metal warehouse in Volgograd is pleased to offer the following services: - wholesale and sale from one sheet and one piece,
- oxyfuel cutting in size,
- straightening of the rebar from the coil to the rods (mainly 6 m each),
- order picking,
- delivery to the object in the city, region and neighboring regions,
- movement of metal from other branches,
- direct delivery cars,
- packing of sheets with tape, etc.

Metal products are delivered to the warehouse mainly produced in Russia, and a part of the metal comes from Ukraine (Zaporizh Metallurgical Plant Zaporizhstal OAO, Mariupol Iron and Steel Works name of Ilyich OAO, Alchevsk Metallurgical Plant PAO). The metal is shipped from Russian plants and plants: Novolipetsk Metallurgical Combine OAO, Severstal OAO, Omutninsky Metallurgical Plant ZAO, Nizhny Tagil Metallurgical Combine OAO, Asha Metallurgical Plant OAO, Ural Steel OAO (NOSTA), Magnitogorsk Metallurgical Combine OAO, OAO "West-Siberian Metallurgical Plant", OOO "Isaevsky Machine-Building Plant", OOO "Togliatti Profile and Pipe Plant", OOO "Production Company" DIA ", ZAO" Naberezhnye Chelny Pipe Plant "TEM-PO Levski Pipe Plant ", AO" Nizhneserginsky-Metallurgical Plant ", AO" VSW "Red October", OOO "Oskol Electro-Metallurgical Plant", AO "Metallurgical Plant them. A.K. Serov "and others.

Availability, price per ton you can independently look at our site. You can request a certificate for any metal products purchased from us, issue an invoice or specify the price per meter or piece from our phone managers: +7 (4722) 50-90-14