Tula
BRANCH EVENTS,
METAL ENTRY -
JOIN!
Since April 1996, the branch in the Tula region, in the city of Tula, at 57, Prospekt Lenina, office 104, began its activities.
In 2010, a service metal center was opened in the northern district of Tula, at Leninsky district, Plekhanovo, Lenin street, 1A. The warehouse has a railway connection, as well as good access roads from both Oktyabrskaya Street and the bypass road to Belgorod. We managed to create in a practically deserted area a well-groomed metal warehouse convenient for shipment of customers that meets all the principles of civilized warehouse trade. Metal warehouse is an open asphalt site, a gantry crane, a platform for straightening the coil rebars into a bar, a railway line for receiving cars. All this allows you to quickly carry out work on the loading and unloading of metal.
Metal at Tula metal stores is stored in specially prepared racks. Cellular accounting of metal allows you to avoid problems with the transfer of goods, and also provides fast shipping of metal to customers. We constantly supply and store a square, rectangular pipe, 6.5 mm wire rod, 8 mm 10 mm in coils and rods. It also unwinds rebar from coils into bars. Metal is sold not only for enterprises, but also for country builders, not only corrugated rebars are shipped, but also smooth, as well as a strip from 20mm, 25mm to 40mm and wider, square bars 10, 12, 14.16, 20, 50x50 welded mesh , 100x100, welded beam from 70 to 100 B, K and Sh.
Offices of sales of ferrous metal and pipes are located on the territory of the warehouses, where customers have the opportunity to draw up all the necessary documents for receiving the previously paid metal, make an order for the next batch of goods, and payment of ferrous metal is also immediately possible.
For the convenience of shipment of customers in the evening, metal warehouses have sufficient lighting, as well as are equipped with security systems and video surveillance. Also on the warehouses the following types of services are organized: order picking and processing of the rolled stock and pipes by a certain date, delivery of cars and railway. transport. Rolled-stock can be ordered from our nearest branches in Chekhov, Kaluga, Lipetsk, Voronezh, Orel, Belgorod, but there is a wide metal assortment at Metalloport Metallotorg in the Tula region: these are round bars St3, steel grade 45, steel grade 40Х, St20 and round bar St35, these are rebars St35GS and A500 C, hot-rolled steel sheets St3 and cold-rolled steel sheets St08ps, galvanized steel sheet, corrugated sheet, round pipe dia. 15, 25, 32, 40, 50mm, rolled profile 25,20,30,40x25, 50x25,50x50, and up to 120x100mm, wire mesh. At the metal warehouses in Plekhanovo and Shchekino there is a sale of such a metal as steel sheet 20, 45 and 09G2S for mechanical engineering, beam st3 and st09G2S for builders (for example, beam 20Б1, 25Б1, 35Б1, 30Б1, 40Б1, also beam 25 к1, 30к1, 35 k1, 25sh1, 30sh1,40sh1,36m and 45m). The consumer can buy from us pipes, and metal-roll structural and carbon steel grades, angle bar channel 8, 10, 12, 14U, 16P, 20, 18, 24, 27, 30 and 40, there is a hexagonal bar available in stock.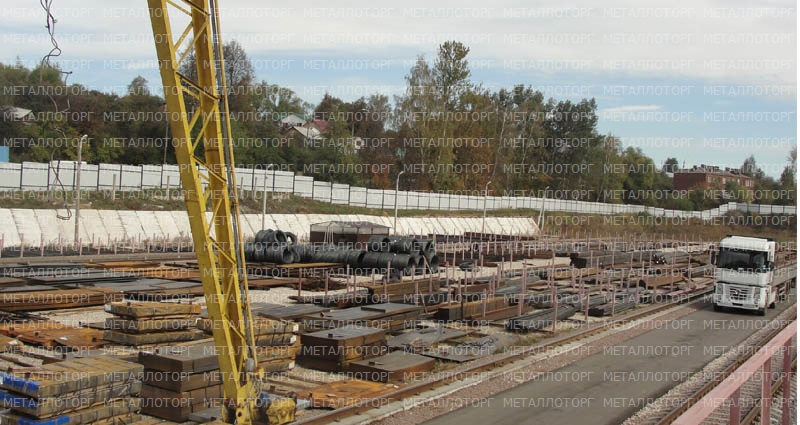 We provide rolled metal all nearby settlements edge - Suvorov, Chekalin, Ageev, Aleksin, Novogurovsky, Yasnogorsk, Zaoksky, Revyakino, Leninsky, Badgers, Burners, Venev, Bolohovo, Slanting Hill, Mendeleev, Sokolniki, Novomoskovsk, Kimovsk, Central, Kireevsk, Lipki, Shchekino, Plavsk, Bogoroditsk, Odoyev, Skuratovo, Chern, Tovarkovsky, Kazachka, Belev, Efremov.
We have the opportunity to deliver metal by motor transport to the Moscow region, Kaluga region, Bryansk region, Orel region; usually we carry in those directions periodic and smooth rebar A400C, A500C, heat-hardened rebar AT-800; area 25, 32, 50, 63, 75; hot-rolled steel sheets from 2 mm and up to 100 mm. With the help of us, you can form modular wagons in the Tambov region and the Ryazan region, where you can hardly find such a wide range of rolled metal and pipes like ours. We'll deliver to you the metal rolled stock and pipes, rebars and channels in the city of Stupino, Kashira, Ozery, Kolomna, Lukhovitsy, Zaraysk, Fish, Ryazan, Spassk-Ryazan, Mikhailov, Novomichurinsk, Korablino, Skopin, Shilovo, Sasovo, Shack, Ryazhsk, Lipetsk, Lebedyan, Dankov, Chaplygin, Michurinsk, Tambov, Kotovsk, Rasskazovo, Morshansk, Kirsanov, Uvarovo, Borisoglebsk, Zadonsk, Livny, Orel, Maloarkhangelsk, Dmitriev-Lgovsky, Mtsensk, Bolkhov, Kaluga, Yukhnov, Maloasroslav, Slavikov, Dmitriev-Lgovskiy, Mtsensk, Bolkhov, Kaluga, Yukhnov, Maloasroslav, Slavik
Service Metal Centers Companies Metallotorg are located in the city of Tula and Tula region.
The history of our Tula branch is inseparable from the history of the city of Tula itself, and we hope to make a significant contribution to the development of the region. Tula - one of the oldest cities in Russia, first mentioned in the Nikon chronicle of the XVI century. The main waterway of Tula is the Upa River, the right tributary of the Oka. On the territory of Tula, three tributaries flow into it: Tulitsa, Voronka and Bezhka.
The extremely important defensive significance of Tula is connected with its position on the southern outskirts of the state, from which the Crimean Tatars threatened with raids, and its proximity to the Upper Oka, where the border with Lithuania was located. This forced to constantly take care of the strengthening of Tula as a key point of defense. In the XIV century, Tula was the possession of the wife of the Tatar Khan Janibek - Taidula. In 1503, it was annexed to the Grand Duchy of Moscow. In 1514–21, a "castle of stone" was built - the Kremlin on the left bank of the Upa River, which became the core of the developing city, the center of the cross-border feature. In 1552, Tula withstood the siege of 30-thousandth army of the Crimean Khan Devlet I Giray, who tried to prevent the campaign of the troops of Tsar Ivan the Terrible to Kazan.
At the beginning of the 18th century, handicraft production of weapons was replaced by factory ones. By decree of Peter I in 1712, the first state weapons factory in the country was built in Tula. Tula is becoming a recognized center for the production of weapons and metal products, which were sold throughout Russia.
There are a lot of sights in Tula and its surroundings - the Museum of Weapons, the Museum of Tula Samovars, the Museum of Tula Gingerbread, the house-museum of L. N. Tolstoy Oh Yasnaya Polyana.
Panorama of metal warehouse on Yandex maps