Rostov-on-Don
The Rostov Region is one of the leading in the country in terms of the diversity of developed industries, the largest part of which is represented by mechanical engineering, metalworking and agricultural production. The Don capital is a large industrial and business center of Russia.
In 2000, in Rostov-on-Don, a new steel and metal warehouse of AO Metallotorg began to operate , at 148 "Zh" Dovatora St., which today is a modern warehouse complex for the sale of metal with an area of more than 25,000 sq.m.
In 2012, a covered warehouse was put into operation for storage of cold - rolled and galvanized steel , as well as profile and water and gas pipes . This will reduce the risk of corrosion, preserve the presentation of metal and facilitate its further processing.
A new customer service center has been opened on the territory of the metal warehouse , you can buy rolled-stock in cash, draw up documents, get certificates for the metal.
AO Metallotorg offers to buy rolled-stock in Rostov at competitive prices. All metal products are certified by manufacturers' quality certificates and complies with GOST:
round bar GOST 2590; TU14-1-2118-98
Steel sheet GOST 16523-97; GOST 19281-89; GOST 1577-93; GOST 14637-89; TU 14123-199-206
Steel angle bar GOST 8509-93
Hot -rolled steel channel GOST 8240-89
Roll-formed channel of GOST 8278-83
I-beam дSTO ASChM 20-93; GOST 8239-89
rebars ГGOST R 52544-2006; GOST 8781-82; STO AISM 7-93; TU 14-1-5580-2009
Wire GOST 6727; GOST 3282
Steel pipe profile GOST 8639-82; GOST 30245-03; TU 14-105-737-04
Seamless steel pipe GOST 8732-78
ТElectric-welded pipe GOST 10704-91, GOST 10705-91, GOST 3262-75
Steel hexagonal bar 35, Art. 45, Art. 40X, Art. 20 according to GOST 2879-88; calibration
We make a roll-formed channel of any size to order in our own production, a large selection of channel from stock in Rostov and other warehouses of the Southern Federal District.
Production of Expanded Steel Sheet (expanded metal sheet) 406, 408, 506,508,510, 608, 610.
Steel round bar. Hexagonal Bar
The steel round bar has a rolled round section, in a warehouse in Rostov you can buy a round bar with a diameter from 6mm to 320mm of steel grades 3, steel grade 20, steel grade 20H, steel grade 25HGT, steel grade 35, steel grade 45, steel grade 40H, steel grade 18HGT, steel grade 09G2S, steel grade 30HGSA.
Steel round bars are in demand in mechanical engineering, including agriculture, for the production of spare parts, various parts and equipment, components and tools. Also, round steel is used in construction and is in demand both by large plants and private consumers. The Rostov region is one of the leaders in agricultural engineering, the production of components and spare parts, so our steel and metal warehouse in Rostov provides an opportunity to buy a round bar of any diameter, building and structural steel are presented in a large assortment .
Considering all the requirements of the modern consumer of metal, we are constantly expanding the range of services provided, such as:
cutting of pipes, channels, beams, in the size of a band-sawing machine
sheet cutting
plasma steel sheet cutting
guillotine leaf cutting
straightening of coil rebars, wire and wire rod into rods
sheet sale in parts from 16mm to 100mm for steel 3, steel 45, steel 09G2S
sale of a round bar in parts with a diameter from 80mm to 320mm for steel grades 20, 3, 35, 45, 40X
delivery of metal is carried out by car and railway transport to any region of the Russian Federation
In the warehouses of Rostov and Novotitarovskaya (Krasnodar Territory) services of portal plasma cutting of sheet metal are rendered:
St3, St20, St35, St40x, St45, St09G2S, St10HSND, St15HSND, St18HGT, St30HGSA, St65G, St12G2AF, St16G2AF from 2 to 40mm. workpieces with high-quality edge, while saving time and money.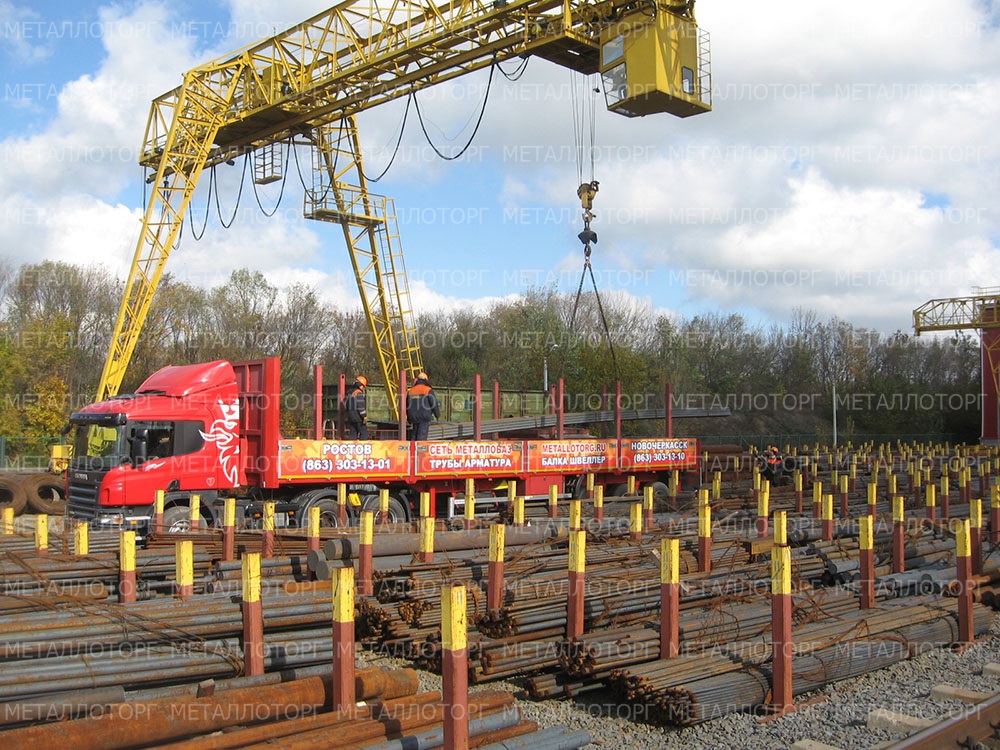 Want to buy rolled-stock in Rostov ? Call by phone (863) 303-13-12 , or you can order the metal on the site , our manager will contact you and provide all the necessary information about the availability of the rolled-stock in Rostov , Novocherkassk, Krasnodar, Stavropol, Pyatigorsk and other regional warehouses Metallotorg ".